Roll over image to zoom in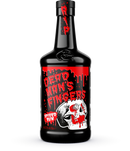 Description
37.5% 70cl
*Special Limited Edition Halloween 2023 bottle*
Dead Man's Fingers took a spiced rum, looked at what everyone else was doing, then did the opposite. They are putting the 'Un' into 'Usual'.

Created at the Rum & Crab Shack in St. Ives, Cornwall, Dead Man's Fingers has gained cult status amongst its loyal followers. A blend of Caribbean rum and spices, it's inspired by Cornish flavours such as Saffron Cake, spiced fruit and the Shack's own Pedro Ximenez ice cream. Can be drunk on its own, over ice or mixed.
The Spirits Business Rum & Cachaca Masters Gold Medal Winner 2021
Payment & Security
Your payment information is processed securely. We do not store credit card details nor have access to your credit card information.