Roll over image to zoom in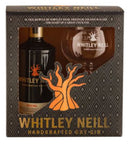 Description
43% 70cl
Whitley Neill Dry Gin is slightly softer and much smoother than traditional Gins, with rich notes of juniper and citrus, pot puri and exotic spices. The finish is a long one, with a subtle fade of herbs, cocoa and candied lemon peels, while the nose is both citrus-sweet and peppery, with a distinctive floral aroma.
Great gift pack that comes with a glass!
Payment & Security
Your payment information is processed securely. We do not store credit card details nor have access to your credit card information.