Roll over image to zoom in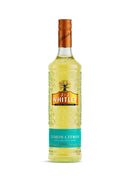 Description
Lemon Citron Vodka Mix Spirits Drink 
35% Abv
JJ Whitley Lemon Citron is a deliciously fresh addition to the family which delivers a zesty twist to cocktails and simple mixers. Bursting with citrus flavours this vodka mix spirits drink is a perfect for any occasion. 
tasting notes 
smooth and mellow, with fresh fruity lemon and lime character and a note of lemon peel to add extra zest. 
Ingredients:  
50ml JJ Whitley Lemon Citron
20ml Lemon Juice
10ml Limoncello
Soda Water  
Garnish: Lime Wedge
Payment & Security
Your payment information is processed securely. We do not store credit card details nor have access to your credit card information.