Roll over image to zoom in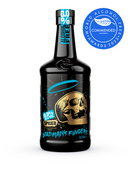 Description
0.0% 70cl 
Now you can enjoy the same award-winning Spiced Rum taste but totally alcohol free! The first alcohol free product in the Dead Man's Fingers range. Enjoy Dead Man's Fingers Spiced 0.0% as you would our regular Spiced Rum with cola, ginger or mixed up in a daiquiri or any of your other favourite rum cocktails. 
50ml shot of Dead Mans's Fingers Spiced 0.0%
30ml shot of Lime Juice 
20ml shot Sugar Syrup 
2 Dashes of Orange Bitters 
Shake all ingredients with cubed ice and strain into a glass 
Payment & Security
Your payment information is processed securely. We do not store credit card details nor have access to your credit card information.