Roll over image to zoom in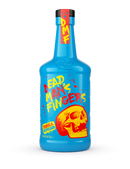 Description
40% 70cl
First ever non-Rum based product from Dead Man's Fingers!
We made a Tequila. A Tequila Reposado to be exact, and it's 'Realmente muy bueno' as they say in downtown Guadalajara. It's aged in Bourbon barrels, so you get those wonderfully rounded notes of vanilla and honey. Now, we're pretty well known for our Rum, and quite right too - but taste this bad boy, and you'll be calling "Margarita-time, baby" before you know it. Salud!
Simple Serve:
Enjoy neat or for a twist on a Paloma mix our Tequila Reposado together with lemonade over ice and garnish with a grapefruit wedge.





Payment & Security
Your payment information is processed securely. We do not store credit card details nor have access to your credit card information.